■About us■
Medical Management Matsuzawa has been providing an integrated management service for Tokyo Metropolitan Matsuzawa Hospital. Service includes the maintenance of hospital facilities with 890 patient beds and operative tasks such as healthcare administration, distribution of supplies, meal services, and the procurement of medical equipment.
Company
Medical Management Matsuzawa Co.,Ltd.


Access
2-1-1 Kamikitazawa, Setagaya-ku,Tokyo 156-0057 Japan
TEL:+81-3-3303-0837 FAX:+81-3-3329-0830
Founded
Sepetember 2008


Capital
180 million yen (funding:JGC HOLDINGS CORPORATION.99%、Tokyo Power Technology Ltd. 1%)


Representative
Masashi Nishide


Business
Tokyo Metropolitan Mental Health Center (tentative name) construction and operation management


■Inquiries■
Medical Management Matsuzawa Co., Ltd.
TEL :+81-3-3303-0837(8:30~17:30 ※weekdays only)
■A message from the CEO■

Medical Management Matsuzawa Co., Ltd. was founded in September 2008 as a Private Financial Initiative (PFI) project of Tokyo Metropolitan Matsuzawa Hospital with the mission of establishing, operating and maintaining the
mental health care facilities.
The project commenced in 2009, starting with the operation of new wards and social recovery wards in May of 2012 and May of 2013 respectively, and reached its completion with the renovation of the entire site at the end of March of 2014.
In February 2012, Matsuzawa Medical Management Co., Ltd. launched the medical peripheral services such as a maintenance/management service and an operation service, and is now celebrating the 6th anniversary since its inception.
Throughout these years, with the cooperation of local communities, we have been providing support to hospital
services as a partner of Tokyo Metropolitan Matsuzawa Hospital, to meet the expectations that patients, families and hospital staff have of us.
We will continue to improve our high quality services by enabling each employee to demonstrate his/her strength and ability.

Sincerely,

July, 2017
Masashi Nishide, CEO
■Business summary■
| | |
| --- | --- |
| Client | Tokyo Metropolitan Government. |
| Location | Kamikitazawa, Setagaya-ku, Tokyo/Japan |
| Completion | 2013 (Operation up to 2027) |
| Scope | EPC/O&M (Engineering,Procurement, Construction, Opearation and Maintenence) |
■Scope of work■
1) Preliminary survey, design, construction, construction management, resolution, application, activity
concerning maintenance of the hospital facilities.
2) Maintenance of buildings, surroundings of the hospital facilities, supply utilities,
cleaning, greening environment, sanitary facilities, and so on.
3) Healthcare record entry and maintenance, laboratory testing, medicine and medical supply, deilivery, procurement, meal services, sterilization, linen supply, medical service assistance, medical equipments maintenance, telephone operation services, dental technicalservices, document handling, data input service, maintenance of hospital staff housing , and so on.
4) Management of the resutaurant, shop, beauty & barber, vending machines, coin-operated laundry, parking.
5) Procurement of medical instruments, equipment, drug and medical materials.
6) Total management of 1) to 5), outsourcing service management, hospital operation consultation service, and Hospital IT and system maintenance.
7) All the above-mentioned businesses.
■Access■
Directions to Our Office
The closest station is the Hachimanyama station on the Keio Line.
Our office is located a 5-minute walk away from the Hachimanyama station.
Please exit the station through the ticket gates and proceed on the Akatsutsumi Street to your right.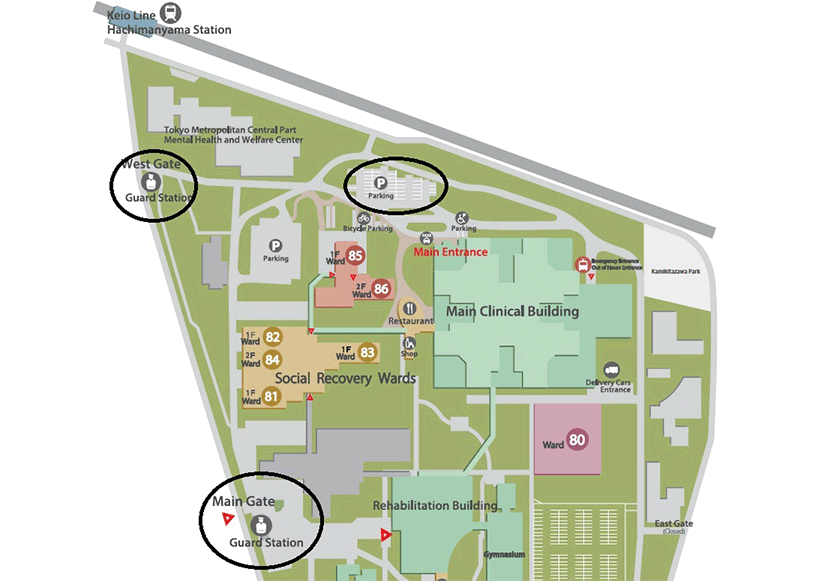 2-1-1 Kamikitazawa,Setagaya-ku,Tokyo 156-0057
Tel : +81-3-3303-0837 Fax : +81-3-3303-0830
The nearest station is Hachimanyama.
・Please proceed on the Akatsumi street on your right from the gate of Hachimanyama station, and enter from
"West Gate" opposite Lawson,come to the second floor by the patients' elevator from the front entrance of main clinical building.
・If you are traveling by car, please enter the campus from the main gate.
if you come from Koshu Kaido,go southward on the Akatsutsumi street, please come to the parking according to the sign.